Is There a More Serious Reason for your Child's Anger?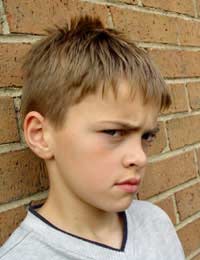 Worrying about your child's development is a normal part of parenthood, after all, we all want our children to succeed and mature as well-balanced individuals in today's high pressured society. Most of the time our worries are not founded and eventually our children settle and learn how to express irritation and control their anger in an appropriate manner but for a small group, the worry might just indicate that the child needs help with their managing their behaviour or how to express themselves; or it may mean they have some type of developmental condition.
Signs That Their May be a Problem
Outbursts and tantrums are an unfortunate but frequent part of early childhood but if your child is physically harming their own body, theirs or others possessions or is behaving in a threatening or menacing way it may indicate that they need to be assessed to find the underlying problem.Gritting of the teeth, shouting, screaming, crying, throwing their fists around and the like can all happen in a 'normal' tantrum, but if they are scratching themselves, picking up dangerous objects, or threatening to harm others, advice should be sought before any permanent or long term damage occurs.
What Might the Problem Mean?
Your child is an individual and their experience and development is unique to them and for some it might take a long time to get to the bottom of whatever is troubling them. This can be a hardy process and involve participation and guidance from counsellors, doctors or mental health professionals.In some cases an inability to effectively communicate may result in displays of physical anger and aggression. Encouraging your child to communicate using a wider vocabulary or other forms of media may help them, otherwise they may need special assessment from a professional to assess whether they're able to learn to communicate in a way you understand or whether it may be you who has to adapt to their behaviour rather than the other way around.For some children, their lack of control over their behaviour may indicate a developmental problem such as a learning disability, a mental health condition or susceptibility to a mental health disorder such as depression or bi-polar disorder.These instances are very rare and doctors will often want a diary of their behaviour, the triggers and how the situation is normally managed by the parents before a full assessment will be offered. In these cases the behaviour would normally be assumed to be quite extreme and have a regular pattern as an indication.
Seeking Help
If you truly believe your child may have an issue with their anger and expressing their feelings and emotions, please do seek advice from your health visitor, GP or school nurse in order to gain an assessment or referral.Try and carry out some research to determine whether your child's behaviour is actually quite normal and you just weren't used to it or expecting it as this may help you come to terms with your child's behaviour.
Parenting is difficult task and made worse by an angry and aggressive child. If you are worried that your child's anger isn't normal, start a diary of events and seek professional help in order to find the cause of the problem and gain advice on how to manage or control the anger and tantrums.
You might also like...