Anger Management and Self-Referral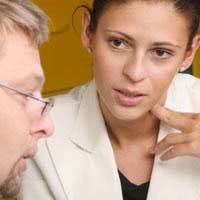 Anger management classes may have been recommended by a doctor or mental health professional or may even be part of a legal process and condition of release from custody, but it is not only these people who might benefit from the exert advice and guidance offered by these service providers.
Anger Management Classes
Anger management classes are sessions that aim to help those who are struggling to deal with their anger effectively. These people may be extremely troubled by their problems and might be using anger as a way of masking their past, as a means of disguising how they are coping in general or simply to help those who feel that their anger has or is about to cause them to become violent.The sessions are usually run by professionals, including doctors and therapists who have been trained in the subject area and have methods and techniques that they can teach that the individual can learn and use when they feel their anger level is rising.They can also be useful for helping people understand how and why their anger has developed to such extremes; often this may mean the person has to face issues that are highly emotional and learning how to address these in a less aggressive, or more productive and understanding way.The environment aims to offer support and guidance for the client and works closely with people as individuals assessing each case very carefully, making their work client-centred.
Self-Referring To Anger Management Classes
These classes are most frequently used by those who have used violence as a way of expressing their anger and these people will take preference over non-violent clients in most cases.If you would like to attend anger management classes you might want to start by asking your doctor of any local groups or whether they could ask a mental health professional for a recommended group.An Internet search may provide plenty of results which allows for careful research of each provider. The types of issues that could be considered are the location of the group, the times at which it is available, the costs of the session, whether they run single sessions or a course of treatment and the type of theory or model that is used.Most anger management classes will encourage the client to learn how to communicate more effectively, how to express themselves without violence or aggression and how to remain calm in stressful or tense situations. Many sessions will also teach clients how to become more self-aware and equip them with tools that can be relied upon when an anger outburst would previously have been the norm.
The Costs
The costs for anger management classes are very varied and may depend on the location of the class, the expertise of the providers, the length of the course, any materials needed and whether you will receive any follow-up care.
Anger management classes are extremely beneficial for those who feel their anger is getting on top of them or they are ready to explode. If you are feeling increasingly angry and your work and home life and affected, or someone has advised you that you may benefit from anger management it is recommended that this course of therapy is explored before anger causes you to seriously compromise yourself or damage your health.
You might also like...
My Abusive Behaviour Hurting Those Around me, Don't Know Who To Speak To? There Is No Excuse For my Abusive behaviour, this Call to the doctor's is for me To Get Help For my anger... It's hard for me to admit that I snap at the smallest thing, if I don't get any help, I'm afraid I will do something I will regret. Andrew Cardell -- Sent from EmailForOutlook for mobile I'm still looking for help, I'm losing it more often, I need help please, I'm now pinning my girlfriend up against the wall, I'm using my belly to keep her there I did headbutt her, so she has asked me to contact you again for anger management please, my girlfriend is getting help with her temper, (hers is due to her up bringing) but I NEED HELP NOW PLEASE... before its to late, I do something serious I will end up regretting. Thank you Andrew Cardell LN11 7RG 08/12/1966 Get Outlook for Android
Andy
- 3-Aug-21 @ 7:02 AM
I would like some night classes in the Leyland area in the north west near Preston
Ashy
- 18-Nov-18 @ 1:35 PM
I want a list of registered anger management operators in London central or NW7 AREAS thank you
BJBIGBUCKS
- 26-Jul-13 @ 12:32 AM