Using Different Vocabulary to Express Feelings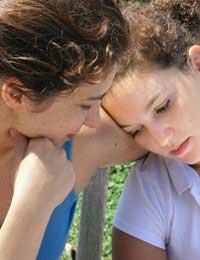 Some children experience a lot of anger whilst others relatively display any; both are normal. Kids learn about anger from the minute they are born and their first expressions of anger are through crying and screaming. As parents we learn to understand the different types of cries a child has and can often differentiate between a hunger cry, a painful cry and frustration and irritation. As the child grows and becomes more verbal they will find other ways of being able to express their anger and unfortunately for some of us this can mean temper tantrums.
What Can Parents do to Help Their Child Express Themselves?
The most obvious answer is to give them the tools to express themselves in a variety of different ways; communicate with them using a variety of different media.Read to them and discuss pictures, talking about the expressions of the characters in the book. Talk about the difference between anger, annoyance and frustration allowing them to use the words freely. Do not try and correct their pronunciation of the words as they will grasp them as time goes on and they become more familiar with them.
If they have temper tantrums explain to them by showing them pictures what they look like when they are having an outburst and then point out other characters who get angry but do not display such physical tantrums.Of course many children will be too young to fully understand the whole conversation but it will expose them with a variety of terms that they will eventually become more used to and will use when they feel confident enough.
When They Say Hurtful Comments
Children will normally learn very basic language and will often communicate using very hurtful comments when they are angry and expressing their feelings. They will often use terms such as 'I hate you' or 'you're not my friend anymore'. Parents normally discourage their children from using them which is no problem as long as you are giving them an alternative expression that can be used as a substitute. If you don't allow your child to verbalise their feelings they will find other ways of expressing their emotions and manage their anger (even if they are totally unaware that they are performing this skill) which can result in outbursts of physical violence, or they may let it build which can be damaging in the long term.
Be Careful What They Are Exposed To
If your child is exposed to scenes of violent outbursts or people expressing anger in a verbally aggressive way they will learn this behaviour and use it themselves as they believe it is acceptable. Protect them from family arguments and scenes on the television which may seem totally innocent to you and part of normal family entertainment, but young children are heavily influenced by the TV and cannot grasp that it is not real.
Children use their vocabulary as a way of expressing their feelings and anger and will perform this task better if they are taught different ways of using words and alternatives words than the ones they currently use.
You might also like...
While my 3yrs baby not listening to me I get angry on her and meanwhile if she cries I really get violent on her...which later make very upset.please suggest me how to avoid this behaviour in front of her...
lipa
- 20-Nov-15 @ 5:59 PM