Using the Law of Attraction to Change Your Mood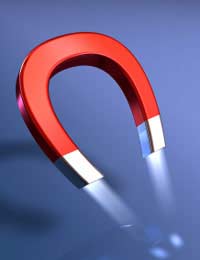 The Law of Attraction states that you create what you think about the most. So in other words if you think about, and dwell on, negative thoughts you will manifest situations and people, in your life, that will promote bad feeling or unpleasant experiences.
All outcomes however, are controlled by you, so you always possess the power to change the negative aspects in your life for more positive ones. All you need to do is learn a few attracting techniques.
How the Law of Attraction Works
Energy responds to energy and positive vibrations will therefore be responsive to positive feelings, whilst negative vibrations will stick to feelings of doom and gloom.
Every single mood or feeling that you experience will create a positive or negative vibration, and this is what the Law of Attraction responds to – the way you are feeling at any given moment. This is why when you are in a bad mood more unpleasant things or situations seem to occur or appear to head your way.
Understanding that it is the mood you choose to feel, at any moment, that influences how you will be feeling will enable you to have more control over the amount of negative/positive experiences you have. Thinking positive thoughts, and creating a good feeling inside will draw you towards other experiences that will continue to encourage you to keep feeling this way.
How to Effectively Use the Law of Attraction
To get more of the positive things that you want in your life, and less of the negative stuff that you're not quite so keen on, you need to understand how to use the Law of Attraction.
If you are feeling angry or aggressive your vibration will be negative. If you continue to feel this way you will begin to attract people, situations and experiences that are on the same vibrational level as you. This means that the happy, positive feelings you would like to be enjoying are being blocked by negative vibrations, and will continue to be repelled until you actively change your vibration by choosing to alter your mood or feeling.
How to Change Your Mood
Imagine you are feeling stressed, anxious, annoyed or angry. Summon up those strong, negative feelings and emotions and your mood will begin to plummet accordingly. Within a short period of time you will begin to experience a series of negative thoughts and this will set off a chain of events or occurrences that will confirm that your anger or frustration is justified.
In order to experience pleasant moods you need to switch off your negative thoughts and create a deep feeling of positive anticipation instead. Once you begin to think this way your body and mind will naturally respond. This creates a highly-charged positive vibration which begins to attract things that compliment your mood.
The more positive, happy and enthused that you feel the harder it will be for a negative thought or feeling – like anger, rage or aggression – to penetrate your positive vibrational shield. As like attracts like you can ensure your mood is calm and collected simply by telling yourself that you feel that way already. As you begin to genuinely feel that way even more positive feelings will be drawn to you, so that you get more of what you think about and want.
You might also like...