Coping With Rage Addiction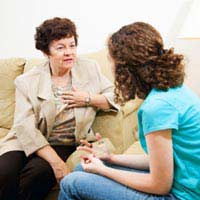 If outbursts of unhealthy anger or rage become frequent you will probably be experiencing rage addiction. This is a negative pattern of inappropriate emotional behaviour that must be handled with care, compassion and understanding in order to break the controlling cycle that impacts on your life. This emotional problem can be overcome, but it is important to get started before the rage outbursts escalate further. There is a fine line between anger and rage, and stopping anger from festering into rage will halt possible rage addiction.
What is Rage Addiction?
Unlike anger, that can be expressed in controlled ways, rage is a volatile mix of anger, fear and desperation that results in destructive behaviour. In extreme cases of rage addiction a blackout, or failure to recall the negative pattern of behaviour and what is expressed, can occur. People suffering from Post Traumatic Stress Disorder may experience moments where emotions are difficult to contain, and this can result in an outburst of rage. If this pattern of negative behaviour is repeated over time rage addiction will have taken hold.
Understanding the Cycle of Rage
A cycle of emotional addiction always works in the same way. Initially you will feel out of sorts with negative feelings, which may relate to the past or present, fighting for your attention. No matter how to try to deal with these emotions nothing seems to work, and the longer the negative feelings linger the worse you feel. As you are unable to find resolution anger begins to build. On top of this stress and frustration begin to take hold until the mix of anxiety, fear and pain bubble up and your emotions explode out of control.
After the explosion of rage the feelings may subside, although this does not usually last for long. You feel guilty for the distress you may have caused other people, but because you have reacted in an inappropriate manner again your apology may fall on deaf ears. You are unable to control your feelings and feel your actions were justified. This cycle therefore repeatedly continues and your needs are still not met.
How to Break the Cycle
Once you have identified you are dealing with rage addiction you will be better informed about finding the most effective way of breaking the cycle of negative behaviour. Learning to meet your own emotional needs is the first positive step to breaking the rage cycle. This means nurturing your inner child and ensuring you release any old behaviour patterns and limiting thought processes that hold you back.
Changing your diet, exercising and taking time to incorporate relaxation into your day will help you break the pattern of stress that adds to your cycle of negativity. Finding healthy ways to deal with the management of anger will also help reduce outbursts that may develop into rage. If expressing emotion in a loud, powerful manner is important finding a safe, non-destructive environment in which to vent and express your emotions is worth considering. Joining a support group or programme may also be beneficial in breaking the behaviour cycle.
You might also like...