Exercise and Lowering Anger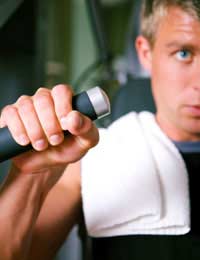 We could probably all be more healthy both physically and psychologically if we participated in more exercise. It can be good for helping tone muscles, burn fat and release stress and tension.
Types of Exercise That Can Lower Anger
Basically, any exercise will make us feel better and help burn off some excess energy and tension; this should help lower your anger levels but there are some forms of exercise that are known to be especially useful for this task, though they may not be suitable for everyone.Boxing, wrestling, impact exercise or anything extremely physical can temporarily help lower anger though some studies have found that when people first start exercising they may feel as though their anger level is actually increasing but this may be due to the surge in adrenalin. Of course if you are learning a new sport you may find it very frustrating if you lack the skills to be able to compete in correct manner so either choose something that you know you can do already, learn quickly or be persistent and be prepared to keep trying and learning.
Does it Work For all Types of Anger
Exercise may provide some sort of temporary relief of anger for a short duration but if the anger is caused by a build up of suppressed emotions it may take more than simple exercise to overcome it and often professional counselling will still be needed. Using exercise in this method works better as a form of anger control than of actually resolving it completely. The temporary relief it can bring could work well in the short-term, but to dispel built up anger entirely or to release the emotions it may only provide a crutch instead of a therapeutic or healing measure.Exercise can however be enormously helpful for releasing everyday forms of stress and irritation that can build and cause people to become angry.As well as helping in this way, exercise also provides us with energy. It may sound strange that burning energy gives us energy but it is true so if your stresses are caused by tiredness you may find you are more able to cope and have more energy to carry out your duties than you did before.
If Your Anger Relates to Pain
Sometimes those who suffer from chronic pain can find their tolerance levels are decreased and they experience worsening and increasing bouts of anger. For these people staring to exercise may seem like the last thing they want to do but it can be extremely beneficial. It is however important to make sure you choose an exercise regime that does not aggravate your injury or cause you more pain in the future.Exercise may help reduce anger in other ways such as the increase in the release of endorphins in the body which are the body's natural pain killers and feel good chemicals.Speak to your doctor or a physiotherapist for more information regarding what types of exercise would be best for you and help strengthen your muscles gently.
There is no doubt that exercise is extremely cleansing for the body and mind and that it can help lower tension that leads to anger considerably, but it may not work in the long term and other forms of anger management may be more successful.
You might also like...