How Can Breathing Techniques Help?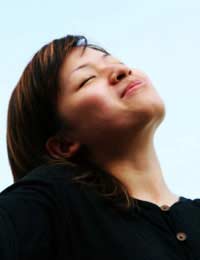 Learning how to control our breathing can significantly affect how well we manage our anger levels.When we feel stress increasing and some degree of anger arising we often automatically inhale more deeply and in a more controlled way as a method of helping us remain calm and in control of our behaviour.
Those with uncontrolled anger who suffer from sudden outbursts may be less able to control themselves and might benefit from learning effective breathing techniques as part of an anger management plan.
Deep Breathing Techniques.
Close your eyes and imagine yourself in a cool, dark and calm place. Whilst sitting comfortably, slowly inhale through your nose, allowing your lungs to fill. Feel your chest fill up and let your neck muscles relax. It may help to place your hands over your mid-abdomen and try and lift them with your breathing action as these are the muscles we should be using for deep breathing and not just our shoulders and upper chest. With control, let the air out through your mouth and feel your upper body be relieved of all its tension. Repeat this exercise five times and you should feel more calm and healthy.
The stress you felt before should have melted away to some degree giving your mind clarity and the ability to focus and manage your frustrations and irritations better. Using your diaphragm muscle in this way (which is the tissue under your lung space and responsible for breathing) has to some degree an automatic relaxation response when it is used correctly and in this manner.Follow this by some muscle clenching and relaxing exercises (of the legs, arms and abdomen) and you should feel a lot more in control and able to carry out the duty you were assigned or deal with any stressful situations.Repeat these exercises every time you feel your stress level increasing. Over time and with enough practice, this reaction to certain stimuli should become a natural action and something you do without being particularly conscious of. When this happens you have gained control of your anger and are in charge of it and not letting it be in charge of you.
Other Benefits Of Deep Breathing.
There are so many benefits of deep breathing it is a wonder we don't all practice these actions on a daily basis. Not only will you encourage your tissues and organs to receive a better and more oxygen enriched blood supply but you will feel generally better in yourself. Deep breathing also encourages the chest and upper body muscles to work more productively and may help achieve a better posture overall.
There are many reasons why we should learn to control our breathing and keeping a check on our anger is one such reason. Along with giving us time to consider the situation, other people or the trigger of our anger it also helps us keep our tissues well perfused with oxygen and our heart rate and blood pressure within normal limits.
You might also like...