Online Anger Management Classes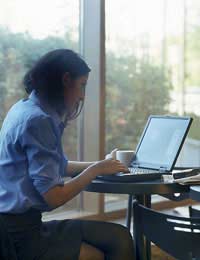 There are many ways of improving the management of anger. There are supportive networks and groups, counselling programmes, natural remedies and a host of other resources. The one you choose will depend on personal circumstances, the degree of previous success at managing an anger issue and the type of support most suited to your own personal needs and requirements.
What Is An Anger Management Course?
Whilst self-help - in the form of relaxation and meditation sessions, following a regular exercise regime, maintaining a balanced diet and moderating excessive habits – provides a useful method of reducing episodes of extreme emotional stress, anger and behaviour, following an anger management course also offers many benefits. Anger management programmes, or courses, are a set of planned and directed sessions that provide help, understanding and support to anyone who suffers from severe mood swings and other stress-induced symptoms.
Learning Anger Prevention
Some online anger management courses provide simple step-by-step guidance points that allow students to work through the assessment exercises in their own time. Explanatory text will be followed with suggestions and tips for curbing extreme mood swings. Set questions may also form part of the course, as this provides an individual with useful reflective opportunities and additional resources.
Once the instruction is understood, and the questions are answered, the course may offer points of action that allow for practice of methods explored. For example, what will you let go of, when dealing with anger, the next time an outburst occurs?
Group Participation
Online anger management courses do not have to be a solitary experience. Anger management programmes, that offer a shared supportive experience, are available via instant messaging services like Skype. You can log in at a convenient time and access information when convenient for you. This type of service provides flexible scheduling and fits in around other personal commitments.
Group discussion allows students to learn from each other's experiences, in a supportive environment. Online interaction also encourages personal response because students have time to respond at their own pace, before moving on through the support process.
Individual Online Support
Individual support, in the management of anger issues, is also available online. In cases where extreme behaviour has resulted in an individual receiving a court order, a course completion certificate can be issued to support the individual's reformed behaviour. The length of individual online anger management support and coaching can also be tailored to fit individual needs, although a commitment to the coaching process is required.
The Benefits Of Online Programmes
Online anger management support is easy to access and saves time in travelling and transportation costs. The form of learning can be customised so that it focuses on specific areas of concern and interest. Studying in your own time also allows you to work at a pace best suited to your learning skills and abilities. As an individual studies the material he/she will be encouraged to work through the programme and to interact when appropriate.
How It Works
After a simple registration process students can log in and access anger management coursework that outlines the programme steps. Once the course is completed the student will receive a certificate of completion.
You might also like...