All About Anger Management classes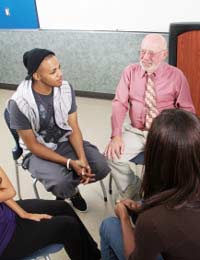 When people are struggling to control their anger they may be referred to anger management classes. This may be a condition of a parole agreement but anyone can self-refer if they feel they should.
What Is An Anger Management Class?
Anger management classes are usually aimed at those people who have a history of violent behaviour or are struggling to prevent themselves form displaying their anger violently.The classes may be part of a programme or arranged on as as-and-when basis or a single session.Each individual who attends the session/s will follow a programme unique to the organiser as they are structured slightly differently between providers and may use differing theories.Often the course begins with the individual coming to terms and admitting they have a problem with their anger and cannot control it when they are made angry.Most courses include content such as understanding anger, understanding rage, aggression and violence, learning how not to take things too personally, learning your triggers, learning coping strategies, learning how to regain control of your responses, conflict resolution and stress management. These are not typical of all classes as some include other issues or pay more attention to one factor than another but the main roots are understanding the causes and root of your anger and learning how to cope with this more productively and effectively.
Who Runs The Sessions?
Anger management session are most often run by trained professionals who have either a counselling, psychology or therapeutic background and specialise in the field of anger management. Always make sure you have researched your provider if you have self-referred as there are few legal requirement that prevent anyone from setting up their own business as an anger management specialist.
What Will I Have To Do?
If you are struggling very badly with your anger and pose a threat to those around you may be offered a one-to-one intensive session.If you have booked a session you must attend unless an emergency prevents you from doing so. You have taken the first step to decreasing your anger and controlling your responses by booking on the course so it would be unproductive to not follow it through. For those who have been told they must attend as a legal requirement the consequences of not attending may be very detrimental to your case.You should follow the session or programme to the end when you will probably have to re-assess you current feelings and responses to stimuli using the techniques offered during the sessions.If you have self-referred you may incur some costs and these can be quite expensive so it may be worth asking your GP or local social services department if you are entitled to receive any help with these costs.
Anger management classes are very effective for helping people deal with their repressed feelings and coping strategies if they are not dealing with anger very well or are increasingly experiencing it. They may be funded for you or will incur a private cost.
You might also like...
@annal - I'm afraid we don't hold information on individuals. However, the Anger Management Counselling - Counselling Directory
here
may help you find what you are looking for.
AngerManagementExpert
- 22-Apr-15 @ 11:42 AM
Hi Jane Marshall, My name is Anna, and I work for the production company Blink Films. We are in the early stages of researching the area of anger for a potential series and how it impacts upon close relationships. We are wanting to speak to anyone who works with sufferers of anger problems. I would love to chat to you, my office number is 0203 150 2749. Thank you so much, Best Wishes, Anna Blink Films 0203 150 2749
annal
- 20-Apr-15 @ 3:18 PM
@dora - I would have a chat to your doctor first, to see what he/she advises you should do.
AngerManagementExpert
- 18-Mar-15 @ 2:07 PM
Can you pls let me know if my doctor needs to referr me for an anger management session,or I can self refer myself. pls call me at .many thanks for your time.bye,dora
dora
- 16-Mar-15 @ 11:01 AM
My son of 11 years old is autistic and ADHD and over time I have badly hurt him by calling him names, shouting and swearing, God knows I am sorry, but not being able to control my son, has now taken the Social Serives into possibly taken him away due to my bad temper. I need help but don't know where to begin.