Exercising Restraint With Physical Exercise: A Case Study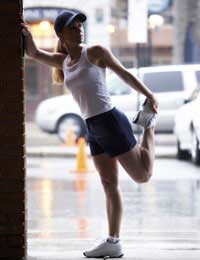 Jeanie Knight, 35, from Whyteleafe, Surrey lives a hectic lifestyle. She works as a PA for a multi-national company in the City and besides having to endure a regular commute into London, during busy rush hours, she also crams as much into her social life as possible.
Two years ago however, this frenetic existence took it's toll on her long-term relationship with then partner Ben, and Jeanie found herself physically lashing out at her fiancé. When he called off their engagement, because he felt he could no longer put up with Jeanie's dramatic tantrums and displays of aggression she realised that it was time to seek help with the management of her anger.
"I read everything I could find, that related to dealing with stress and curbing anger, and although I followed the ideas and suggestions they only seemed to provide a very short, temporary solution," admits Jeanie.
The moment her workload increased or the pressures of juggling such a busy schedule became apparent once more Jeanie would find herself flipping back into this angry persona who demanded attention. It was a casual remark from a co-worker that got Jeanie thinking about exploring exercise as a means to changing her moods and controlling her emotions. A colleague's husband had suffered a period of post traumatic stress disorder and had embarked on a new fitness regime in order to gain a better understanding of himself. The results had been impressive and this spurred Jeanie to seek out the help of a personal trainer.
After researching various personal training experts Jeanie secured the services of ex commando Paul. Together they discussed Jeanie's aims and requirements and Paul put together a tailor-made exercise schedule that not only made the most of what little free time Jeanie had at her disposal, but also boosted her mood, confidence and health on a number of different levels. He took into consideration Jeanie's need to let aggression out, in a safe environment, but also her need to explore ways of increasing relaxation awareness.
"In order to help me de-stress I went running late in the evening, instead of slumping in front of the telly, which is what I would always end up doing. I also joined a Body Combat class and slotted in Body Balance classes when I had a little extra time. I also enjoyed yoga stretches in the comfort of my own home.
"I will admit that fitting it all in was difficult in the beginning, but after week 4 my mood was so much more relaxed that the exercise sessions became something to look forward to. All my friends kept asking me what I was on because they noticed such a change in my reactions and actions."
It is a well-known fact that exercise releases endorphins that increase feel-good energy and boost self-esteem and confidence. With all this new positive input there is little room for the negative emotions of anger to settle, which is why regular exercise creates such a change in our moods. Jeanie's new exercise regime, which she has maintained for two years, have helped her combat aggression whilst becoming more able to relax and express emotion more appropriately. Her new understanding of herself has also improved relations with Ben and the couple are making fresh plans for their wedding.
You might also like...