Understanding Family Stress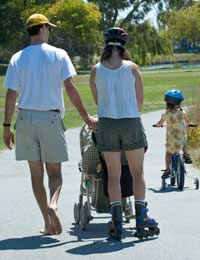 Understanding how children respond to stress and anger issues, within the family environment, is important. Without an idea of how stressful issues affect each family member it is difficult to gauge potential solutions to improving stressful situations. Adults must learn to be attentive to the emotions and concerns of children. Understanding adults will be better equipped to respond in the best, and most specific, way to help reduce family stress and tension.
Desired Outcome
If the desired outcome in all family situations is to understand responses and reduce conflict, stress and expressions of anger parents must be able to identify a child's emotional response. A parent must also be fully aware of the importance of their role in maintaining balance and harmony within the home. With this level of understanding an adult is much better informed and more able to plan specific strategies for creating improvements in the way that stress and anger is managed.
Family Stress Discussion
Maintaining good communication between family members will provide a good foundation from which to explore resolution options. Parents should feel confident about being able to ask questions like - What is the biggest family challenge in dealing with this particular stressful situation? This in turn will bring up other questions relating to identifying how children respond to the stressful circumstances that are being faced. Encouraging children to openly express their thoughts will improve communication for all during stressful situations.
Changing a Family Routine
Any change in routine within a family will impact on the individuals within that environment. Changes or upheavals, like divorce, separation, death and relocation will trigger showers of emotions in both children and adults. Whilst an adult is able to comprehend what is causing these emotions a child will not be as able to understand why they are feeling frightened, anxious, confused, frustrated and angry.
Understanding the importance of communicating on a level that children can easily comprehend will help reduce family stress for everyone.
Stress Relievers
There are many simple activities that help reduce tension and stress and enable parents to manage anger more successfully. These activities can be shared and enjoyed with children, and also offer the additional opportunity to strengthen family bonds.
Taking a walk in nature is an instant stress reducing exercise. Meandering in the countryside provides a welcome change of scenery and enables individuals to calm thoughts and emotions. Enjoying music also provides an opportunity for reflection and meditation. Another activity worth trying is drawing. Being creative with colour and images allows for a flow of artistic expression that reduces stress and anxiety.
Letting Go of Expectations
Just because the difficult situation concerns family members it does not mean that stress will be any easier to avoid. Within a family unit there are generally other people who are capable of increasing the amount a stress that is created in situations and as a result of working through issues. Being honest about feelings, and open about emotional expression, encourages all family members to explore their moods and emotions and to listen to, and support, each other through difficult experiences.
You might also like...