Depression and Anger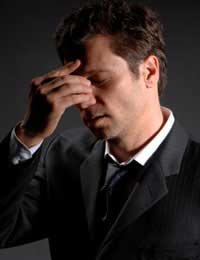 Depression and anger can be associated quite closely with each other as one may be affected by the other or even be the precursor to the other.Anger is a response that is borne out of being frustrated, annoyed or riled by something, it occurs when something doesn't go as planned or someone hurts us. Depression however is also an extreme emotional state that develops as a response to something environmental, emotional or even because of physical and chemical changes in the body. Often instead of becoming angry, we become depressed and feel worthless and isolated in a world that has let us down.Sometimes the same action can cause the two different reactions in people leaving one person very angry at the situation and the other in a low mood or depressed. Depending on their background, physical health, perception of the situation and expectation may contribute to the type of reaction experienced.
Does Anger Cause Depression?
Sometimes a low mood can result in a person lashing out at others often because they feel isolated, as if no-one understands or because the chemical balance in their brain is affected. It is also true that anger may be someone's way of managing their depressed mood or may be sign that someone is depressed abut does not want to admit it.For these people, being angry is a more attractive emotional state than dealing with the issue that has caused them to feel depressed. It may also be cry for help as they want someone to become angry with them thus allowing them the chance for an argument and a way of venting their feelings. Depression that causes anger can frequently be blamed upon the actions of others. Someone with a sad background of emotional trauma may present with anger more than those whose depression is caused by other factors.
Depression, Alcohol and Anger
It is common for those experiencing depression to use alcohol to help them cope with their condition or block out the emotional pain. The problem is that not only are they damaging their health and masking the problem, they are also putting themselves at risk of suffering from bouts of anger and poor anger management.
Overcoming Depression Related Anger
Anyone who is experiencing long term depression and feel that they are neglecting their health, are unable to cope or is feeling violent or a risk because of their anger MUST see their GP for advice and guidance.It is common for those with depression to require medications for a short while along with some counselling or therapy that tries to determine and address the issue that is causing the depression.These treatments may be successfully coupled with anger management classes which may also be useful for finding a suitable method for dealing with the depression also, especially if diet and exercise are addressed at the same time.
It may be possible to attend counselling sessions in which the specialist or support staff is trained in both therapeutic methods for overcoming depression along with anger management and that the two treatments might be collaborated and tailored for individual's personal needs.
Anger and depression are two very powerful states of human emotion and each can be quite mild or severe in nature and may worsen overtime. Both may be successfully treated using counselling or other therapies that provide support for the person in emotional pain.
You might also like...